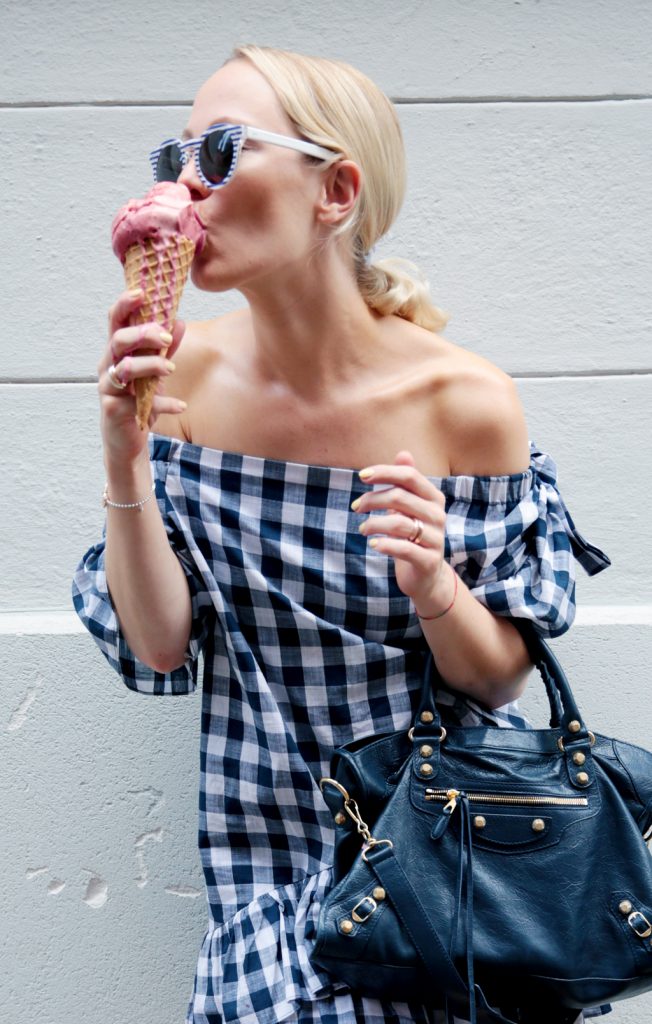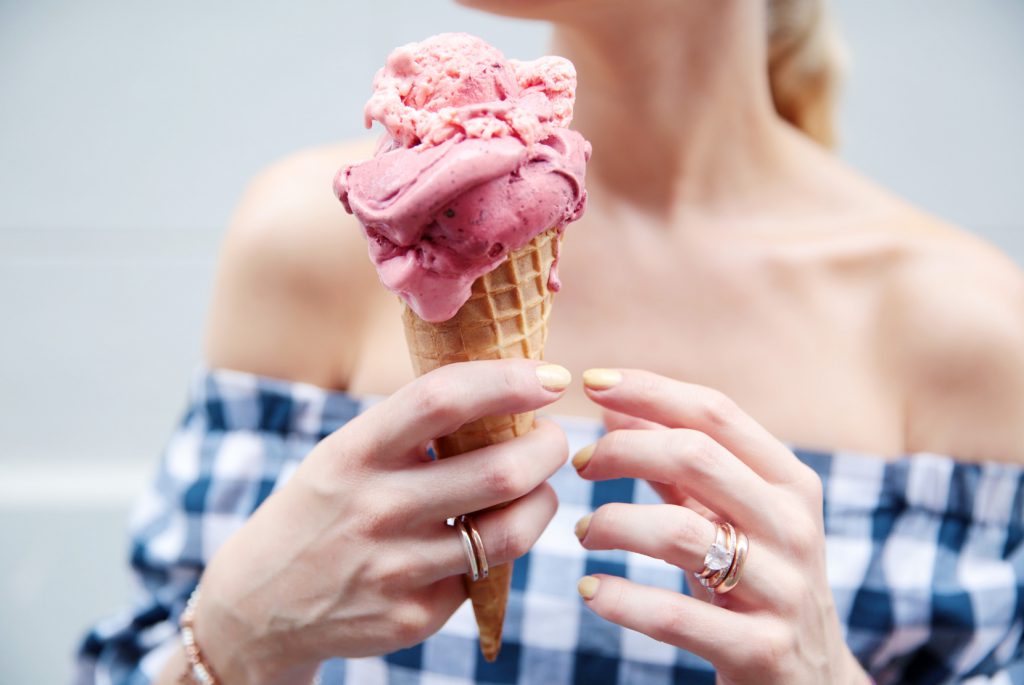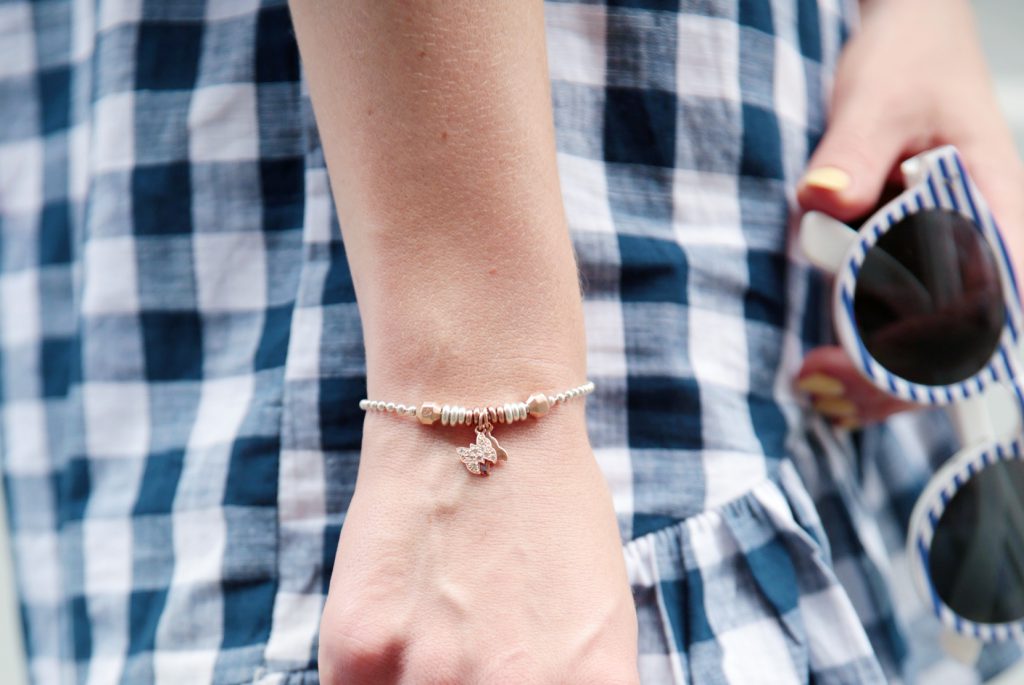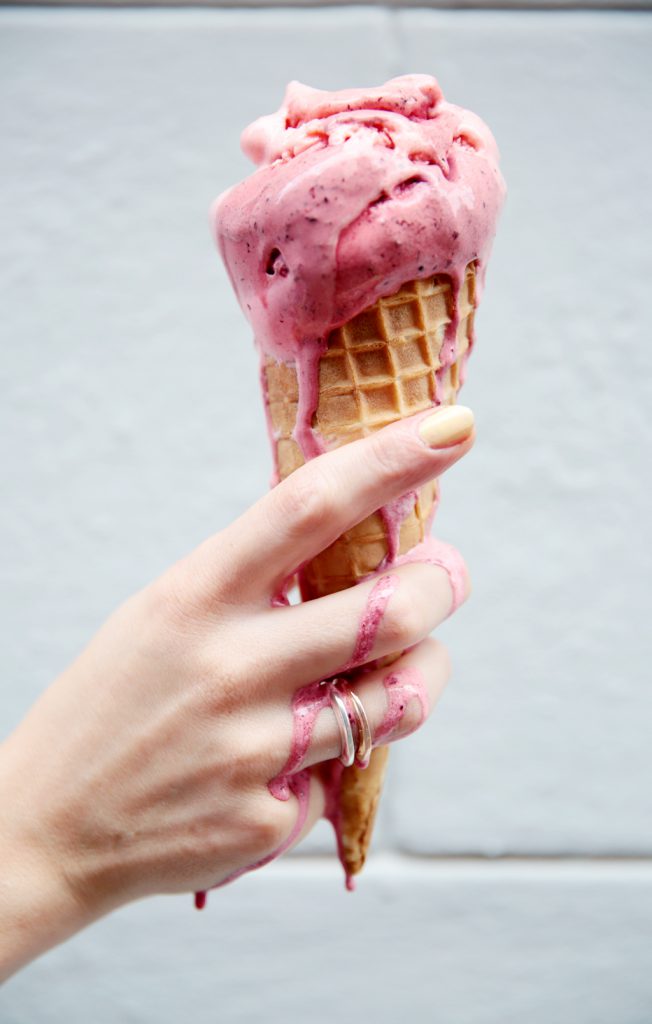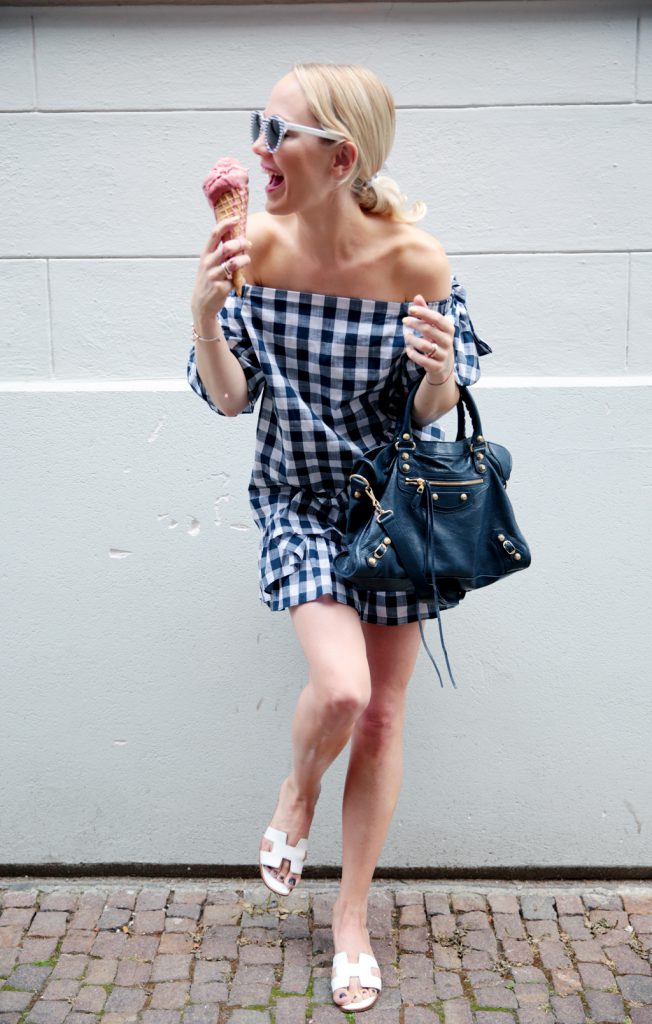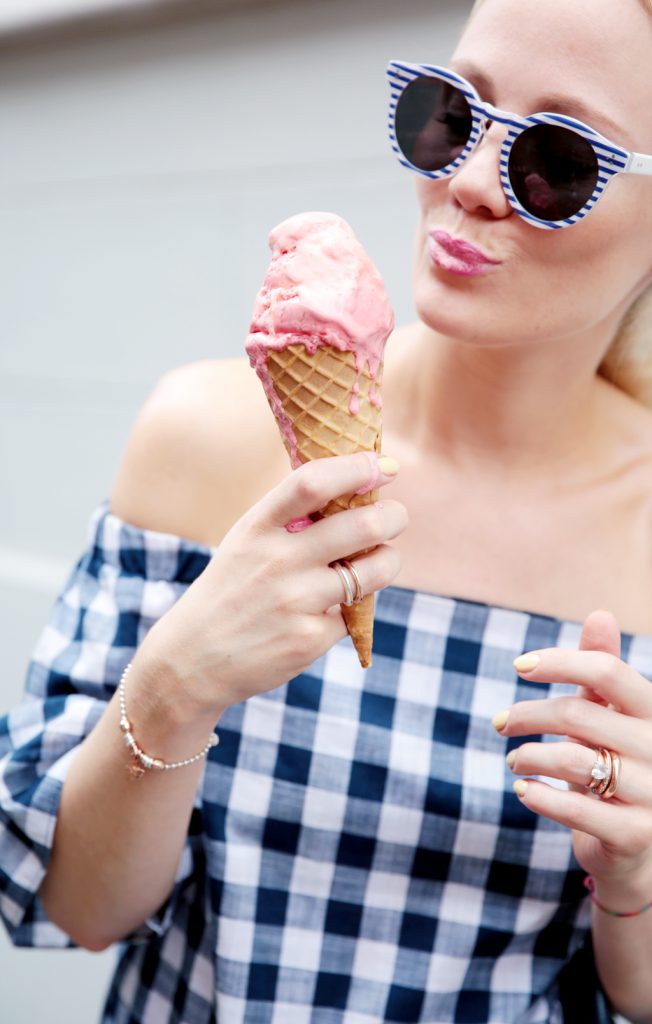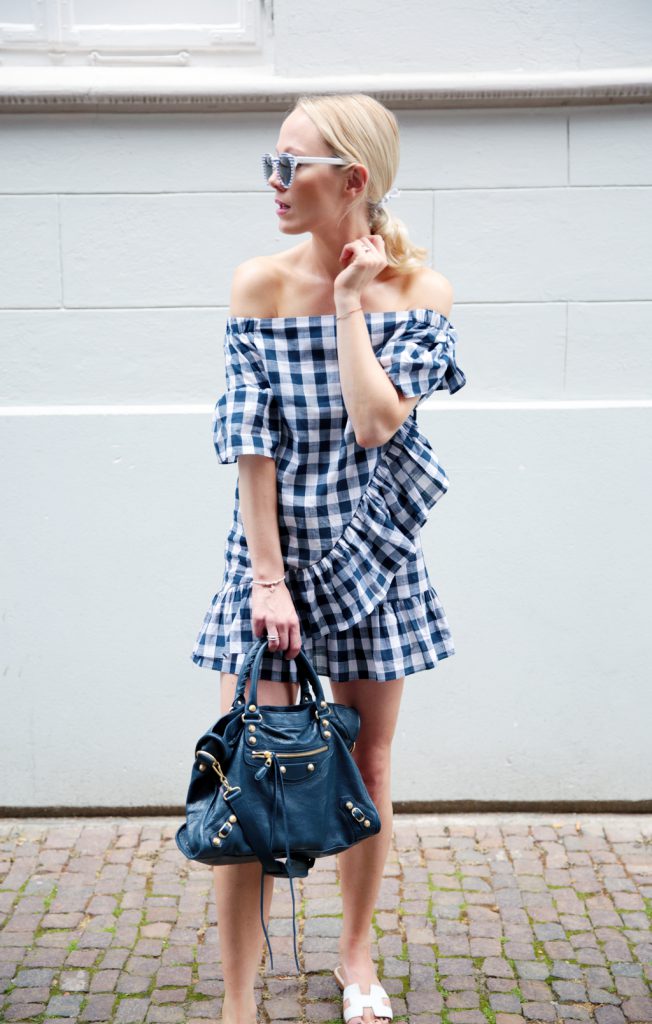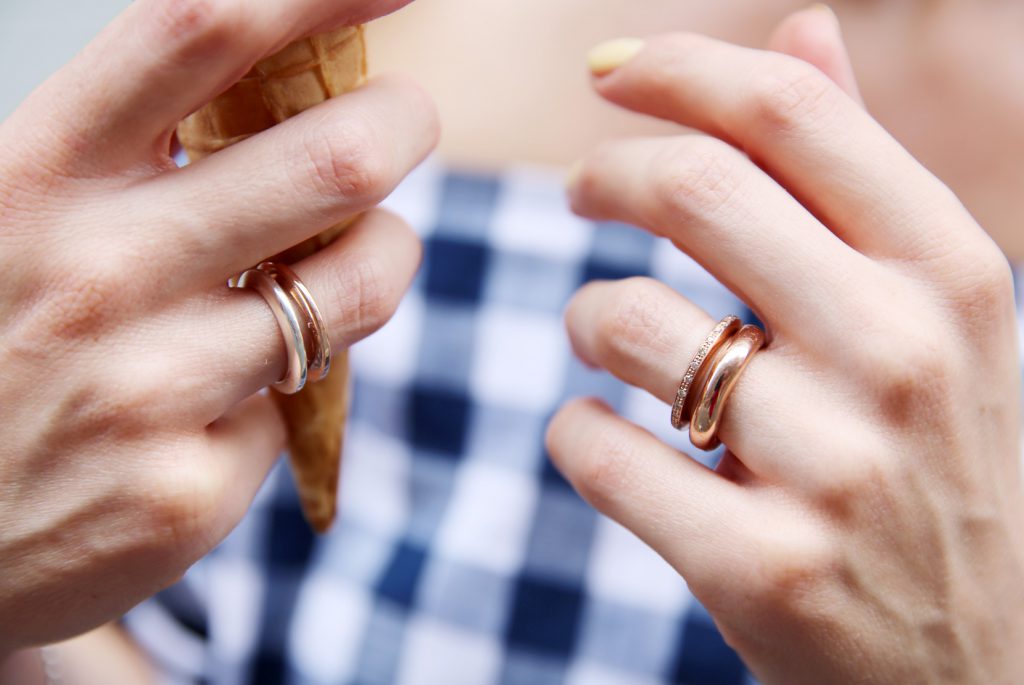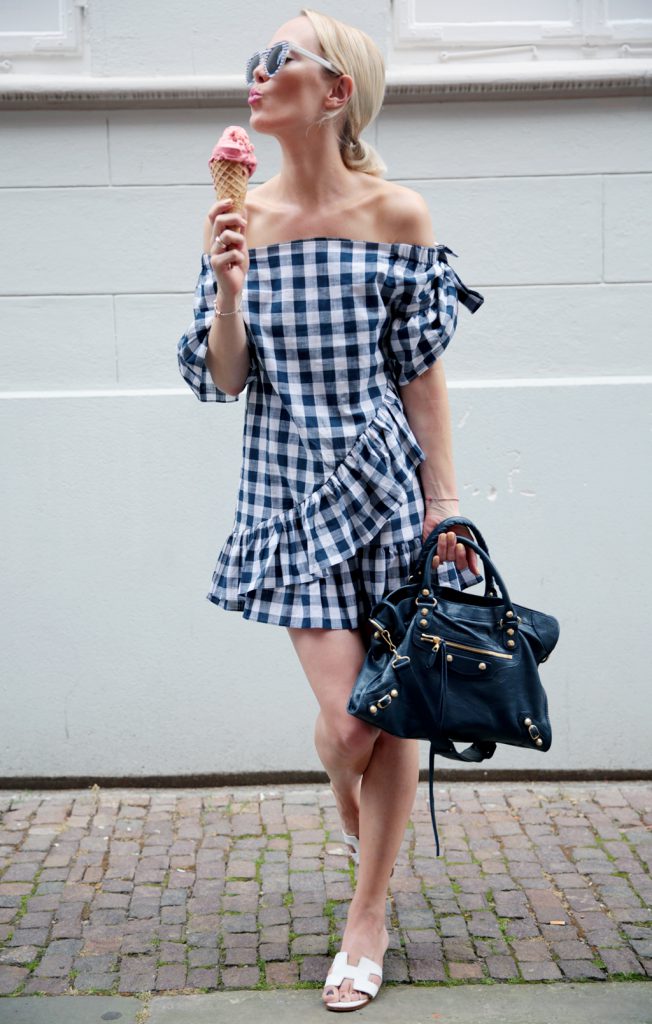 Der perfekte Sommer mit Dodo
Whoop, Whoop! Endlich ist der Sommer da. Warum also in den Urlaub fahren wenn man das Südsee-Feeling auch vor der eigenen Haustür haben kann. Viel zu lange habe ich die Entscheidung, in diesem Sommer nicht weg zu fahren, bezweifelt und deshalb auch lange an der richtigen Strategie für den nötigen Erholungsfaktor daheim, gefeilt. Und ich habe sie gefunden, sie geht wie folgt:
 findet euren Lieblings-Italiener mit dem besten Eis der Stadt und kauft regelmäßig. Schon bald wird er euch über die Straße "Ciao Bella" zurufen und ihr werdet antworten, "Ciao Stefano, a presto!".
Legt euch ein Sommerkleid zu, welches ihr eigentlich nur tragen würdet wenn ihr auf dem Weg zu Strand wärt oder nach einem Standtag zum Dinner anziehen würdet. Luftig und irgendwie besonders. Einen richtigen Urlaubsfummel eben. Dieses tragt ihr dann so oft es geht, zum einkaufen, auf dem Wochenmarkt, im Freibad, zum Lunch mit den Girls, … es wird euch auch in den nächsten Jahren immer in guter Erinnerung bleiben und ihr habt Urlaub von der gewöhnlichen Alltagsuniform. Ihr werdet sehen, Stefano aber auch die wortkarge Nachbarin werden bemerken wie erholt ihr ausseht!
Jeder gute Urlaub, ob nun zu Hause oder im Ausland verdient ein Souvenir welches euch immer an unbeschwerte, fröhliche Zeiten erinnern wird. Ich komme in diesem Jahr zum Beispiel nicht an der neuen Flou Starfish Kollektion von Dodo vorbei. Ich weiss die Frage wird kommen, daher: bestellen könnt ihr die neue Kollektion auf der niegel-nagel-neuen Website von Dodo, auf der man auch seit kurzem in 6 unterschiedliche Sprachen in 25 Länder versenden kann. Mega! Und ich muss gestehen, seit dem Tag unserer Verlobung bin ich Dodo jewlery verfallen. Die neuen Stücke harmonieren zudem perfekt miteinander, man kann sie wie man lustig ist selbst zusammenstellen, sie verkörpern zurückhaltenden Luxus den man wirklich täglich tragen kann und man weiss das man in gute Handwerkskunst investiert hat.
Schaut doch mal rein, auf der Social Wall könne wir von nun an in die Welt von Dodo eintauchen, uns über die neusten Events informieren oder uns neue Styling Informationen holen! Ist wirklich sehr schön geworden wie ich finde!
Investiert in einen guten Selbstbräuner. Inzwischen gibt es etliche die uns aussehen lassen als hätten wir drei Wochen am Strand verbracht. Ich schwöre auf die Produkte von Lancaster!
Vergesst nicht so viel und so oft es geht zu lächeln. Es muss gar kein künstliches lautes lachen sein. Ich rede von lächeln. Hin und wieder die Mundwinkel zu heben auch wenn einem nicht danach ist, kann Wunder bewirken. Bei einem selbst aber auch bei seinen Mitmenschen! Was mich immer wieder dazu auffordert? Mein Flou Starfish Armband von Dodo. Ich muss es nur berühren und schon erinnert es mich wieder daran, unbeschwert und fröhlich diesen Sommer zu genießen!
Alles Liebe, eure Kate
_________________________________________________________________________________________________

The perfect Summer with Dodo
Whoop , Whoop! Finally summer has arrived. So why go on vacation when you can experience the South Sea Feeling on your doorstep.
A while back I made the decision not to go away this summer, to overcome my doubts and in order to experience a relaxing and carefree time at home I came up with the following strategy:
Find your favorite Italian restaurant with the best ice cream in town and visit regularly. It won't be long before you are greeted from across the street with a "Ciao Bella" and you will reply, "Ciao Stefano, a presto! ".
Look out a summer dress that you would only actually wear to the beach or for an evening dinner after a day on the beach, airy and light, something special, the perfect holiday piece. You can wear this look as often as possible, to the weekly market, to the outdoor pool or simply shopping with your girlfriends….you will be carrying the memories with you from previous vacations and will also remember these glorious days at home, taking a break from your standard everyday outfits, you will look and feel so relaxed that your neighbours will notice. You will see the Stefano and experience the tacticum.
Every good vacation, whether at home or abroad deserves a souvenir that you will always remember carefree, happy days. For me this year it is Flou Starfish Collection by Dodo. I have anticipated the next question: you can order the new collection at the brand new sparkling website of Dodo, where you can browse and purchase in 6 different  languages  and Dodo can ship to 25 countries. Amazing! And I must confess, since the day we got engaged I have been a complete fan and fallen in love with Dodo jewelry.
The new collections  harmonize perfectly with each other, they can be worn as your mood dictates, alone or as a collection, they embody understated luxury that you can wear every day and you really know that you have invested in good craftsmanship.
Check out the Dodo social wall, you can  plunge into the world of Dodo where you can be informed of the latest events or styling details. I think this is a very useful and well designed tool.
Invest in a good self-tanner. Meanwhile there are plenty of products on the market that can make us look as if we had spent three weeks on the beach.
Finally don't forget to smile and laugh as often as possible. It doesn't have to be a loud artificial laugh, I'm talking about a simple smile, every now and then lift the corners of your mouth even if you don't feel like it, it works wonders, the people around you will smile back.  What prompts me to smile, I run my fingers over my Flou Starfish bracelet from Dodo. I just need to touch and then it reminds me again about how to enjoy a carefree and joyful summer!
Love, your Kate